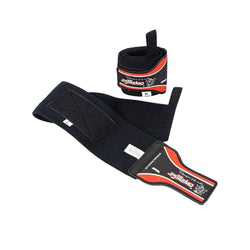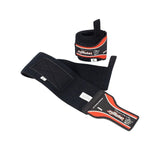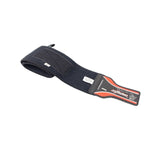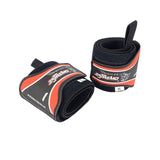 Estremo Fitness
Wrist Wraps - Red
Built with high performance cotton elastic our wrist straps, 18" long with thumb loops, are designed to provide ultimate wrist support in lifting, gym, & exercise.
Key Features:
BOOST YOUR WRIST PERFORMANCE: Our 18" long wrist wraps are designed to provide ultimate wrist support and stability for weightlifting, crossfit, MMA, powerlifting, pushups, & strength training

BUILT TO LAST: Manufactured with high performance stretchable cotton/elastic fabric yet strong enough to provide maximum support and worry free thumb loop which lasts for the longest without fraying, snapping, or tearing

FULLY ADJUSTABLE: Easy to use and adjustable professional Velcro closure according to different compression requirement unlike hook & loop system which may loosen or break. Designated right and left hand wraps quickly adjust with your thumbs

SOFT & COMFORTABLE: Velcro closure gives you full freedom to adjust compression to desired level allowing to allow your wrist joints to move freely-yet provides superior levels of support to immobilize the wrist when necessary
Estremo Fitness Wrist Wraps 18" x 3"
Item Specification:
18" Long 3" Wide made with cotton elastic
Premium Quality Velcro Closure
2" x 1/2'" Thumb loop
Durable Stitching
Main Features:
18"length and 3" made with cotton elastic
Reinforced heavy duty Velcro closure
Covers the entire wrist to maximize support.
What makes us different? 
Our wrist support wraps are made with professional grade heavy duty elastic/cotton mixed fabric unlike other mass-produced wrist wraps that are not strong enough to provide required compression or support. 
Why prefer Velcro closure over hook and loop closure?
Adjustable Velcro closure makes is easy to use and adjust compression according to different compression requirement. With hook & loop closure you can only get certain intensity of compression. Additionally wraps may become useless once the hooks break. 
Compression Levels?
High performance stretchable elastic fabric can provide least to maximum levels of compression intensity based on the adjustment with Velcro closure. 
Anti-Slip?
Our wrist braces are manufactured to adjust with body texture and to stay firm atone place without rolling up or sliding down. They are flexible enough to stretch with joint movement and still remain firm without sliding. Thumb loops add additional stability. 
Soft and Comfortable? 
Our wrist wraps are made with the strong and heavy duty elastic yet they are super comfortable and friendly to skin. They will not cause any rashes to skin at all. 
Are our wrist support wraps washable? 
You may hand-wash or machine-wash our wraps in warm water. Their colors will never fade from soap or detergent washing. 
Money Back Warranty: 
We offer lifetime warranty and 100% money back guarantee. If you don't like our product, we will buy them back without charging any shipping/handling fees 
Free Shipping: 
We offer fast and free same day shipping.
ADD TO CART NOW!!!