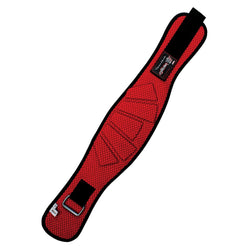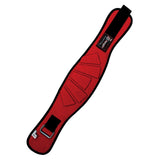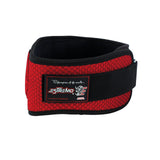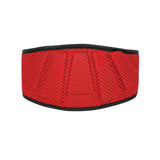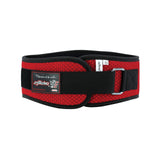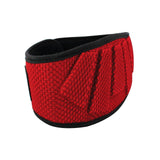 Estremo Fitness
Weightlifting Belt 6" Neoprene - Red
Estremo Fitness is Introducing our exceptional weightlifting back support belt, designed to be remarkably sturdy yet unbelievably lightweight in USA, thanks to its cutting-edge padded neoprene construction. This outstanding lifting belt is the ultimate choice for gym enthusiasts, exercise enthusiasts, and bodybuilders seeking unmatched performance.
Key Features:
OPTIMAL POWER LIFTING SUPPORT: Designed to deliver unparalleled lower back support during intense weightlifting sessions, squats, deadlifts, and strength training exercises. This back support belt conforms flawlessly to your body's natural contours, ensuring utmost comfort without compromising functionality.
REMARKABLE STRENGTH AND DURABILITY: Crafted with top-of-the-line High Performance Neoprene and a Velcro Closure equipped with a Professional Grade Stainless Steel Roller Buckle. Enhanced with 5 contoured EVA channels, this 8-inch width belt maintains its shape even under substantial pressure, guaranteeing maximum support without any risk of bending during squats, bending movements, or deadlifts.
FEATHER-LIGHT & INCREDIBLY COMFORTABLE: Weighing in at less than 1 pound, our belt feels remarkably light around your waist while remaining firm and secure against your body's curvature. The 6-inch width is ergonomically curved to fit your lower back perfectly, delivering unrivaled comfort and promoting proper posture during lifting and bending exercises.
VARIED SIZES & VIBRANT COLORS: Available in a range of sizes to accommodate all body types: Small (28-32 inches), Medium (32-36 inches), Large (36-40 inches), and X-Large (40-44 inches). Each size is fully adjustable with a Velcro closure system. Furthermore, our belt comes in an array of stylish colors, including Black, Blue, Camouflage, Orange, and Red.
SIZE GUIDE FOR NEOPRENE BELTS
| | | |
| --- | --- | --- |
| SIZES | WAIST INCHES | WAIST CM |
| XS | 24 - 28 | 61 - 71 |
| S | 28 - 32 | 71 - 81 |
| M | 32 - 36 | 81 - 91 |
| L | 36 - 40 | 91 - 101 |
| XL | 40 - 44 | 101 - 111 |
Estremo Fitness Weightlifting Belts 6" Wide Made with High Performance Neoprene
Specifications:
Weighs less than 1 lb - Impossibly lightweight
6 inches wide made of high performance neoprene  
Stainless steel roller buckle for easy closure & size adjustment 
Professional grade Nylon strap and Velcro Closure 
Eva rubber edge piping
Intended Use:
Weightlifting belt for back support in gym and training for fitness. 
Provides lower back support for men and women. 
May be used by athletes,construction workers, or warehouse workers who frequently bend and lift heavy boxes.
Benefits:
Provides ultimate lower back support for men and women during heavy lifting, squats, and deadlifts. 
Eases stress on the back
Helps reduce post-workout pain and the potential accidental spinal injuries. 
Maximum Strength: 
Made with High Performance Neoprene and Velcro Closure with Professional Grade Stainless Steel Roller Buckle. 
5 contoured EVA channels stiffen the 6 inches width maintaining it's shape under pressure and ensures maximum support without bending during squats, bending, and deadlifts. 
Available Sizes: 
S:      28"-32"
M:     32"-36"
L:      36"-40"
X-L:  40"-44"  
All sizes are available in multiple colors.
Lifetime Warranty: 
Love them or we'll buy them back. No questions asked!!! 
Fast &Free Shipping:
We Offer fast and free same day handling and shipping
Free Returns:
We offer 30 days free returns or exchanges (at buyer's discretion) 
ADD TO CART NOW!!!