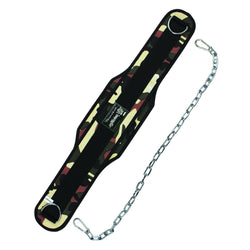 Estremo Fitness
Dipping Belt With 34" Metal Chain - Camouflage
The Estremo Fitness Dip belt, featuring a durable 34" stainless steel chain, is an exceptional exercise equipment choice for weighted pull-up resistance training with dumbbells. Its key features include the ability to easily incorporate plates, dumbbells, pull-up bars, and dip racks, thanks to the heavy-duty chain with a secure carabiner closure. Get your belt in USA!
Key Features:
DIP & PULL UP RESISTANCE: Our pull-up and squat belt provides unparalleled flexibility to add plates, dumbbells, pull-up bars, and dip racks to the heavy-duty 34" stainless steel chain with carabiner closure.
SUPREME DURABILITY: Manufactured with high-performance thick neoprene and a heavy-duty stainless steel chain and carabiner closure system, our dip belt ensures long-lasting durability. The heavy-duty chain, carabiner, D-ring, and reinforced stitching guarantee unmatched strength.
QUICK & EASY USE: The 34-inch stainless steel chain and carabiner mechanism of our dip belt allow for easy and rapid loading/unloading of heavy weights, eliminating any concerns of accidents. The padded and soft neoprene provides maximum comfort and a perfect fit during intensive training sessions. It is designed to fit all sizes.
MULTIPLE USES: The best workout accessory for powerlifting, crossfit, XFIT, and various resistance trainings. With our dip belt, you can achieve new personal records in dips, pull-ups, chin-ups, platform squats, calf raises, and weighted push-ups.
Estremo Fitness Dip Belts with 34" Stainless Steel
6" Wide made with fine quality neoprene
Strong nylon edge piping
Heavy duty stainless steel D-ring 
34" Stainless steel chain with
Stainless steel carabiner closure for loading/unloading weights
Intended Use:
Powerlifting
Crossfit
XFIT
Dips
Pull-ups
Chin-ups
Platform squats
Calf raises
Weighted push-ups. 
Specifications:
6 inches wide made of high performance neoprene  
34" Stainless Steel Chain
Stainless Steel D-Rings
Stainless Steel Carabiner Closure system 
Maximum Strength:  
Manufactured with high performance unbreakable thick neoprene
Heavy duty stainless steel chain which do not bend, loosen, widen, or rust
The heavy duty stainless steel carabiner closure system ensures maximum weight security 
Heavy duty chain, carabiner, D ring and reinforced stitching ensure long lasting durability.  
Available Colors: 
Black
Blue
Camouflage 
Red
 SIZING: 
Lifetime Warranty:
Love them or we'll buy them back. No questions asked!!! 
Fast &Free Shipping:
We Offer fast and free same day handling and shipping 
Free Returns:
We offer 30 days free returns or exchanges (at buyer's discretion) 
ADD TO CART NOW!!!