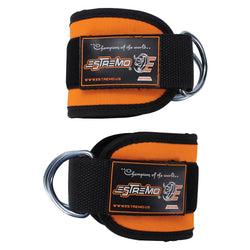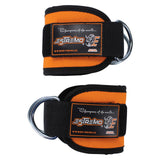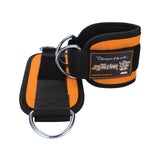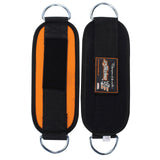 Estremo Fitness
Ankle Straps for Cable Machine - Red
Fully adjustable lightweight & compact ultra-durable Estremo Fitness Ankle Straps are built to provide maximum comfort and to prevent ankle soreness during leg exercise with cable machine.
Key Features:
Ultra-Durable: Our ankle straps are made of high performance thick and soft cotton pad with durable stitching. Reinforced stainless steel double ring withstands any stress and prevents wear & tear.

Maximum Comfort: Double padding enhances and provides maximum comfort while preventing blisters, chafing, and ankle soreness during extreme workouts.

Fully Adjustable: Professional grade fully adjustable Velcro closures allows the cuff to fit all sizes of ankles-yet remains super comfortable. Sold as single piece or pairs giving buying flexibility.

Lightweight & Compact: Lightweight and compact feature makes our ankle straps a perfect fitness accessory that you can easily to put in sport bags, hand bag to the gym, or suitcase to travel with you.
Ankle Straps for Cable Machine by Estremo Fitness, Inc.
Made with high performance neoprene
Premium Grade Stitched Nylon
Premium Quality velcro closure
Reinforced Stainless Steel D-Rings
10" x 4" x 7 mm Ankle Pad
High Performance Ankle Straps for Cable Machine
Main Features: 
Ultra-Durable and built to last.
Provides maxim comfort with double padding- no more ankle sores, chaffing, blisters, or rashes
Fully Adjustable with Velcro closure strap
Stainless steel double ring to hook with cable machine
Lightweight and compact-single piece weighs 4.8 ounces.
What makes our ankle strap different?
Our ankle straps are manufactured with superior quality thick and soft cotton pad with durable stitching. These straps are equipped with HG-stainless steel double ring which can withstands any stress and prevent easy wear &tear unlike other mass-produced ankle straps that are not padded and tear easily. Their D-ring often rusts and may fall off.
Anti-Slip?
Our ankle straps manufactured to adjust with body shape to stay firm at one place without sliding up/down. They are flexible enough to sallow joint movement and still remain firm without sliding.
Are our ankles straps washable?
You may hand-wash or machine-wash our ankle straps warm or cold water. Their colors will never fade from soap or detergent washing.
Money Back Warranty:
We offer lifetime warranty and 100% money back guarantee. If you don't like our product, we will buy them back without charging any shipping/handling fees
Free Shipping:
We offer fast and free same day shipping. 
ADD TO CART NOW!!!