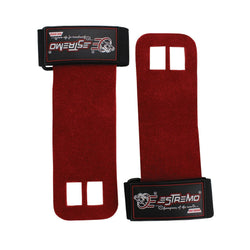 Estremo Fitness
Crossfit Hand Grips - Red
Best crossfit hand grips made of synthetic leather. Durable full palm protection & sweat wicking pull up gloves for gymnastic & crossfit training.
Key Features
GENUINE LEATHER: Manufactured with genuine leather inside out for a soft yet durable surface designed to provide ultimate comfort and support from custom wrist strap.

STRONG GRIP: Our hand grips are made with superior natural leather and are designed to allow air circulation through entire hands keeping them sweat free which makes them Non-Slip providing enhanced grip and stability for pull-ups, weightlifting, crossfit, deadlifts, powerlifting, and many other resistance trainings.

SOFT & COMFORTABLE: Soft and smooth genuine leather in our 2 holes hand grips is designed to maximize comfort and protection for your palms preventing calluses, hand tearing, and sweat during crossfit, WOD, or pull-up. CALLUS FREE, SWEAT FREE, & ODDERLESS HANDS.

FULLY ADJUSTABLE: High performance Velcro closure allows you to adjust the built-in custom wrist strap according to your wrist size. One size perfectly fits all wrist sizes, small, big, or in between for men and women with maxim support.
Estremo Fitness Crossfit Hand Grip Gloves
Textured Leather
Heavy duty metal hooks
High performance velcro closure
Heavy duty nylon strap
2 hoes for fingers
Intended Use:
Pull-ups
Kettlebell swings
Powerlifting,
Gymnastics
Deadlifts
Lat Pull Downs
Main Features:
Maximizes your grip strength
Non-slip Strong Grip
Sweat & Odder Free
Provides maximum stability & comfort 
Gives full freedom to adjust according to wrist size
Unmatched strength and durability 
BUILT TO LAST with Long Lasting Quality Material: 
Professional grade Velcro closure
Genuine Leather Palm Protectors
High performance cotton elastic wrist wrap
No fear of wear&tear 
Why prefer Velcro closure system? 
Fully adjustable Velcro closure system allows easy and fully adjustment according to wrist girth and required personal comfort.
Soft and Comfortable? 
Our weightlifting hand grips are made with lightweight genuine leather to promote comfortable workout while strengthening your grip and providing maximum support.  
Are our workout gym grips washable? 
You may hand-wash or machine-wash our gloves in warm or cold water. Their color swill never fade from soap or detergent washing.
Available Colors: 
Lifetime Warranty:
Love them or we'll buy them back. No questions asked!!!
Fast & Free Shipping:
We Offer fast and free same day handling and shipping
Free Returns:
We offer 30 days free returns or exchanges (at buyer's discretion)
ADD TO CART NOW!!!