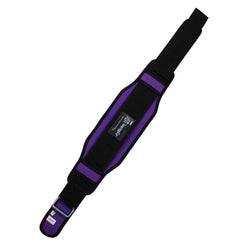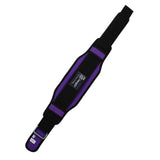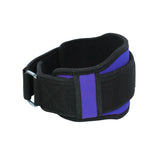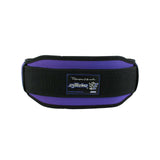 Estremo Fitness
Weightlifting Double Belt - Purple
Our Double Support Neoprene Weightlifting Belt for back support is the ultimate gym essential that will elevate your exercise outcomes to new heights. Made with an overlapping double closure system, constructed from high-performance lightweight neoprene, it empowers you to bear heavier weights and enhances your lifting capacity like never before. This remarkable piece of gym equipment is proudly brought to you by Estremo Fitness USA, the leading provider of top-notch fitness gear.
Key Features
DOUBLE SUPPORT: Overlapping double closure system made of high performance neoprene lets you bear more weight and enhances your lifting capacity. High performance Velcro Closure with HG-Stainless Steel Roller Buckle ensures durability and long lasting
COMPACT & LIGHTWEIGHT: With less than 1 Lbs., you get all the support you need and feel completely weightless. Stays firm on body curvature without rolling or bending, yet provides maximum support and stability
FULLY ADJUSTABLE: Velcro closure with HG-stainless steel roller buckle gives you complete control on the compression you want! Padded cushioning provides ultimate comfort.
AVAILABLE SIZES & COLORS: Small, Medium, Large, and X-Large. Please refer to our Size Guide in product images for accurate sizing measures. All sizes are available in different colors.
BEST GYM EQUIPMENT: Engineered with precision, our weightlifting belt is carefully crafted to be the best companion for your workouts. It provides the stability, support, and confidence you need to excel in the gym and surpass your fitness goals.
SIZE GUIDE FOR NEOPRENE BELTS
| | | |
| --- | --- | --- |
| SIZES | WAIST INCHES | WAIST CM |
| XS | 24 - 28 | 61 - 71 |
| S | 28 - 32 | 71 - 81 |
| M | 32 - 36 | 81 - 91 |
| L | 36 - 40 | 91 - 101 |
| XL | 40 - 44 | 101 - 111 |
Estremo Fitness Weightlifting Double Belts Item Specification
Specifications:
Weighs less than 1 lb
5" Wide made with high performance neoprene
Eva rubber padding
Heavy duty velcro closure
Nylon strap for size adjustment with roller buckle
Intended Use:
Weightlifting belt for back support in gym and training for fitness. 
Provides lower back support for men and women. 
May be used by athletes, construction workers, or warehouse workers who frequently bend and lift heavy boxes. 
Main Features:
Provides ultimate lower back support for men and women during heavy lifting, squats, and dead lifts. 
Eases stress on the back
Helps reduce post-workout pain and the potential accidental spinal injuries. 
Maximum Strength:  
Made with High Performance Neoprene and Velcro Closure with Professional Grade Stainless Steel Roller Buckle. 
Overlapping double belt stiffens and maintains it's shape under pressure
Ensures maximum support without bending during squats, bending,and deadlifts. 
Available Sizes: 
S:      28"-32"
M:     32"-36"
L:      36"-40"
X-L:  40"-44"  
All sizes are available in various colors. please choose your size and color carefully. 
Lifetime Warranty:
Love them or we'll buy them back. No questions asked!!! 
Fast & Free Shipping:
We Offer fast and free same day handling and shipping
Free Returns:
We offer 30 days free returns or exchanges (at buyer's discretion) 
ADD TO CART NOW!!!